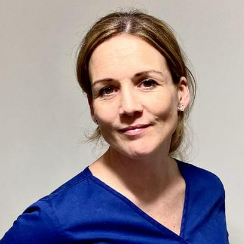 Charleane McInally
Dental Hygienist
Diploma Dental Hygiene Royal College of Surgeons of Edinburgh 2008
GDC Number: 156683
'Charlie' is our dental hygienist and is extremely passionate about making sure your gums are as healthy as possible.  She will give you all the advice necessary to look after your teeth, prosthesis and gums so they feel and look the best they can.
Apprehensive about visiting us? Not a problem! Charlie has undertaken lots of training to help deal with nervous patients, including medical and dental hypnotherapy and she can apply some of these techniques during routine appointments in addition to offering hypnosis for anxiety management and smoking cessation.
In her spare time, Charlie is a busy mum to her two (soon to be three) children, 2 dogs and a tortoise!
She enjoys running and aerial silks so there is always something interesting to chat about when you come to visit!
Back to Our Team