Dental implants for a renewed confidence and smile
14th January 2019
As humans, we stand out in the ability to express ourselves. Dental and oral health is a crucial part of that expression, be it appearance, a function such as speech, or the ability to relish and appreciate food in your unique way. Missing teeth can impede achieving this goal.
Needless to mention maintaining great dental health for as long as possible, well into our later stages of life is of paramount importance. In fact, in the advanced stages of human life, simple things like the ability to smile, be pain-free and manage to enjoy the food of choice with friends and family could be all that is needed to make a person happy and satisfied in life.
Missing teeth can be replaced in many ways. The most common options are removable dentures and bridges which were so commonly used until recently, the option of dental implants has made its inroads in the past decade or so. Dental implants make a predictable alternative to dentures.
Treatment options based on dental implants are offered by many dental practices. Whether it is the replacement of a single tooth or many or all missing teeth is possible in a very predictable manner.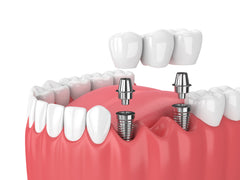 What is great about such a treatment option is the high success rate (over 95%). There are a certain group of patients who are more prone to complications such as heavy smokers, patients having poor oral hygiene, those who have poor immunity or disorders of immunity or due to ongoing medications to treat other conditions may experience a higher risk of complications or failure.
Your specialist will be able to advise on the risks and benefits of each treatment option.
There is always a concern about cost when having dental implant treatment. The treatment costs are high due to material, equipment and laboratory costs. There are significant costs involved in training and maintaining a high standard of care through further learning. The short-term cost will be balanced out by the long-term gains
You can know more about dental implants at www.adi.org.uk
Feel more confident and comfortable by choosing the dental implant option.
Visit www.ochilviewdental.co.uk for more information or call now to book an appointment on 01501 731 711.
Back to Blog